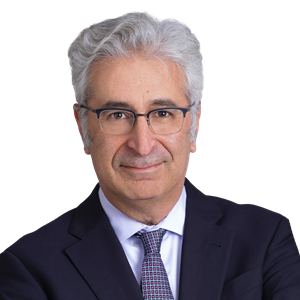 Robert Wisner
Partner, International Arbitration & Cross-Border Litigation
Professional Bio
Robert Wisner is widely recognized as a leading practitioner in international arbitration and corporate commercial litigation. He assists clients in a wide range of industries, including mining, energy and aviation. Having argued numerous cases before arbitral tribunals seated throughout Canada, the United States, Asia and Europe, he has also appeared at all levels of court in Ontario and other Canadian jurisdictions.

Many of Robert's cases involve matters of international law, including cross-border disputes relating to foreign investment protection, the jurisdiction of Canadian courts, and the enforcement of arbitral awards and foreign judgments.

Robert also handles a wide range of disputes relating to corporate governance, shareholder remedies and complex commercial contracts, including M&A, joint venture, shareholder, partnership, supply and services agreements. In addition, he assists clients seeking litigation financing and advises leading litigation funders conducting due diligence on potential claims.

An acknowledged leader in the field, Robert's work in international arbitration, cross-border business litigation and mining disputes has been recognized in Chambers Global, Lexpert and Who's Who Legal. Market sources have described him as "tenacious, smart and readily available" and an "outstanding counsel."

Robert has also served as an arbitrator in domestic and international commercial disputes. He is a member of the Arbitration Court of the London Court of International Arbitration, whose members are selected to maintain a balance of leading practitioners in commercial arbitration from the major trading areas of the world. He is a national leader of the firm's International Arbitration & Cross-Border Litigation Group.
Company McMillan LLP
181 Bay Street Suite 4400
Toronto, Ontario M5J 2T3
Canada
+1.416.865.7000
Law Firm Membership
---