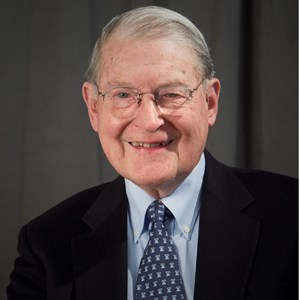 Judge William Webster
Chairman of the Homeland Security Advisory Council
Professional Bio
In 2006 U.S. Homeland Security Secretary Michael Chertoff has announced the appointment of Judge William Webster as the Chair of the Homeland Security Advisory Council (HSAC). Judge Webster, a consulting partner in the Washington, DC office of international law firm Milbank, Tweed, Hadley & McCloy LLP, previously served as the HSAC Vice Chair.

One of the most distinguished lawyers in the United States, the Hon. William H. Webster is former chair of Milbank's Litigation Department and is involved in the firm's international corporate, banking, and administrative law practices and active in the areas of arbitration and mediation.

Prior to joining Milbank in 1991, Judge Webster served as Director of the Federal Bureau of Investigation from 1978 to 1987 and as Director of the Central Intelligence Agency from 1987 to 1991, during which time he led some of the most prominent and sensitive legal commissions, including a review of the performance of government agencies during the riots that followed the verdict in the Rodney King case in Los Angeles. He later served as Chair of the Commission for the Review of FBI Security Programs, which was set up in 2001 following the arrest of a senior FBI agent on charges of espionage. A former federal judge, Webster served on the U.S. Court of Appeals for the Eighth Circuit (1973-1978) and on the U.S. District Court for the Eastern District of Missouri (1970 – 1973).

Judge Webster has received numerous awards in recognition of his outstanding leadership in all areas of the legal profession, the administration of justice, government service and the rule of law, including the Distinguished Intelligence Medal, the Presidential Medal of Freedom, and the National Security Medal.
---