Professional Bio
Helena Tavares Erickson oversees the CPR Institute, the membership and programming side of CPR, and is CPR's Corporate Secretary. She is responsible for CPR's Annual Meeting, is the liaison to CPR's Arbitration Committee and various Task Forces, and oversees CPR's Awards Program. Prior to her current position, Ms. Erickson served as SVP of CPR Dispute Resolution Services for many years. She began her career at CPR convening committees charged with designing industry- or practice-focused ADR protocols, rules and other products, including the Master Guide Series on dispute resolution and was in charge of the CPR Brazil Initiative.

Prior to joining CPR in 2004, Ms. Erickson practiced for over 17 years in New York and Paris with the litigation and arbitration groups of Dewey Ballantine and White & Case where she served as an advocate in international arbitration. She is a member of the New York and Connecticut bars, is a member of the New York International Arbitration Club, and has been trained as a mediator. Ms. Erickson is a native speaker of Portuguese and proficient in French and Spanish.

Ms. Erickson authored several book chapters and articles, including Chapter 47 in "International Commercial Arbitration: 21st Century Perspectives" (Naon and Mason, eds., 2010, and revisions) and lectures on topics relating to international arbitration and ADR ethics. She is a 2006 recipient of the New York State Bar Association ADR Committee's award for contributions to the field of ADR and a 2017 and 2018 National Law Journal ADR Champion.

Ms. Erickson earned a BA in English and Political Science, Magna Cum Laude, from Wellesley College and a JD, cum laude, with a specialization in International Legal Affairs from Cornell Law School.
Company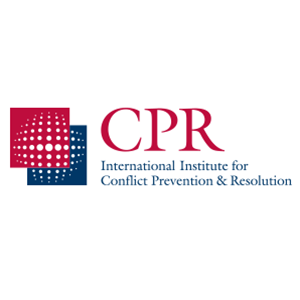 CPR Institute
30 East 33rd Street 6th Floor
New York, NY 10016
United States
+1.212.949.6490
---