Back to Events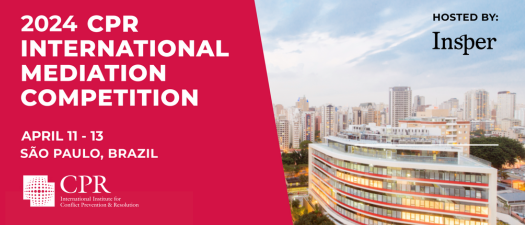 2024 CPR International Mediation Competition
Thursday, April 11, 2024
to Saturday, April 13, 2024
Event Details
2024 CPR International Mediation Competition

*Team applications have not opened yet for 2024.*
Congratulations to the 2023 CPR IMC winners!

The full list of winners (top 3 in each category) can be viewed here.

Visit the CPR Institute LinkedIn page to see photos.
The history of the IMC
CPR first brought the International Mediation Competition ("IMC") to Brazil in 2017 and has continued with this annual tradition in São Paulo except for a few years during the pandemic when the IMC was presented virtually. Participants were thrilled to return to an in-person competition in Brazil in 2023 where students from around the world displayed their mediation skills, networked with each other and with professionals in the field, and learned from some of the leading experts in mediation and dispute resolution.
A leading international mediation competition held in Latin America, this competition demonstrates CPR's commitment to promoting mediation across the globe while also showcasing the leadership of the Brazilian community in hosting this marquee event.
2024 CPR IMC returns to Insper!
The 2024 CPR IMC will again be hosted by Insper at its state-of-the-art campus in beautiful São Paulo (Brazil).
The Insper Institute of Education and Research is a private, not-for-profit, higher education and research institution located in the Vila Olympia district close to the new business centre of São Paulo, Brazil. The university offers higher education courses on fields of Business Administration, Economics, Engineering, Law and Computer Science.
IMC Details
Language: English
Dates: April 11, 12, and 13, 2024 (must attend all three days)
Location: Insper, Rua Quatá, 300 - Vila Olímpia - São Paulo, Brazil
Teams: Teams include students in the role of mediator, counsel/negotiator, and client, and may include alternates and one team coach.
Application: Applications will open in the Fall of 2023. Teams are required to submit an application for consideration.
Selection Process: Applications will be reviewed by the Organizing Committee who select teams for the 2024 CPR IMC. Selected Teams will be asked to register and pay a Registration Fee. By registering, teams affirm that they will be prepared to travel and attend the competition in-person in São Paulo. (No virtual attendance.)
Registration Fee: Payable only if a team is selected after the application process and upon registration.
Awards: CPR will award the top team/competitor in each of these categories: Best Negotiator, Best Mediator, Best Written Statement, Best Client, Best Counsel, and Best Teamwork.
Guests and Observers: The Organizing Committee may issue a limited number of guest tickets for the 2024 IMC.
Experienced Mediators are invited to serve as IMC judges. Please contact Knar Nahikian if you are interested in serving as a mediation judge for the 2024 International Mediation Competition.
We kindly ask prospective judges to be sure:
1. You are able to participate in-person (no virtual judging is available),
2. You are comfortable communicating with the student teams in English, and
3. You have significant experience in mediation.
Thank you for supporting the next generation of mediators!
We are seeking Sponsors! Please contact Knar Nahikian to support the next generation of mediators!
For More Information: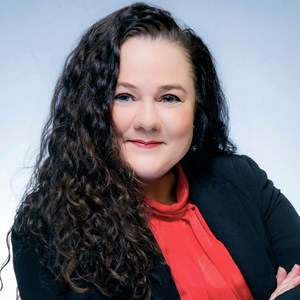 Knar Nahikian
Director, International Initiatives
CPR Institute
Related Documents:
CPR International Mediation Procedure
---
2024 IMC Organizing Committee
CPR is grateful to the 2023 IMC Organizing Committee members for generously giving their time and energy to bringing this important event to life!
Co-Chair:
Diego Faleck, Faleck & Associados
Co-Chair:
Knar Nahikian, CPR
Problem Writing Lead:
Roberto Baumgarten Kuster, Faleck & Associados
Organizing Committee Members:
Álvaro Scarpellini Campos*
Amanda Mezzomo*
Bruno Maranhão Fabricio
Franco Gevaerd
Giulia Spalletta
Kate Gonzalez*
Kyle Thomason*
Luiz Ricardo
Marciele Almeida
Rocio Monzon
*Members of the Problem Writing Team