Back to Events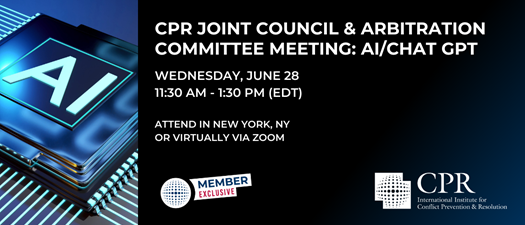 CPR Joint CPR Council and Arbitration Committee Meeting on AI in ADR
Hybrid Committee Meeting:
Milbank LLP, 55 Hudson Yards (NY) & Zoom
Wednesday, June 28, 2023
Event Details
Please note: registration for in-person attendance closes on Monday, June 26, at 12:00 pm ET.
CPR members are invited to this hybrid joint meeting of the CPR Council and the CPR Arbitration Committee. The in-person presentation on AI will feature panelists who will discuss AI/Chat GPT in the lawyering space; AI in litigation funding, including of arbitration disputes; and the role of AI in legal search engines.
Featuring:
Monica Crespo, Head of Product, Jus Mundi
Shaun Sethna, General Counsel, TechGC
Isabel Yishu Yang, Founder, ArbiLex
Jorge Mattamouros, Partner, White & Case
Viren Mascarenhas, Milbank (Moderator)
Agenda:
11:30 - Welcome and Council/Committee business
11:45 - Panel Discussion
12:30 - Lunch (for in-person attendees)
In-Person Location:
Milbank LLP, 55 Hudson Yards, in New York, NY.
Virtual Location:
Virtual attendance will take place via Zoom.
Registration:
Registration is required for both in-person and virtual attendance.
*In-person registration closes on Monday, June 26, at 12:00 pm ET*
Please use the button above to register. Questions about registering? Please contact Carrie Ann Trubenstein or Eunice Kim.
You must be logged in to register for this event.
You must be a member of the CPR Institute to attend.