Back to Events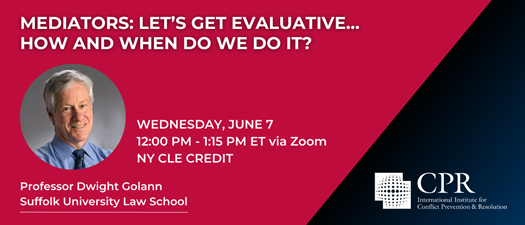 CPR Mediation Committee Meeting
Wednesday, June 7, 2023
Event Details
CLE Presentation sponsored by the Mediation Committee
Let's Get Evaluative…How and When Do We Do It?
Presented by Professor Dwight Golann, Speaker and Author of Mediating Legal Disputes: Effective Techniques to Resolve Cases
As good mediators, we constantly evaluate what is happening in our cases. And we keep our opinions hidden—or do we?
Data shows that mediators regularly convey their viewpoints, indirectly and even unconsciously.
We'll show a video of leading US and foreign mediators conveying viewpoints, directly and indirectly, and ask you to discuss:
When do you provide direction to parties?
On what topics, using what techniques?
Do you ever "leak" a viewpoint, intentionally or not?
We will also ask our corporate and law firm colleagues to reflect on their experience with mediator evaluations - the good, the bad, and the ugly - and offer their views on how mediators can best offer their perspectives as part of a problem-solving process.
This is a chance to reflect on what you do and to hear from colleagues about this charged topic.
1.5 hours of NY Professional Practice CLE will be provided. See below for full CLE details.
Program Logistics:
This course will be conducted on Zoom.
The course fee is as follows:
-CPR Institute Members: Free
-All others: $15.00
Registration:
Please use the registration button above to register.
Non-CPR members will first create a non-member guest account, providing their email address, password, and job title, then return to the event to register with the credentials just created.
Questions about registration? Please contact Carrie Ann Trubenstein at ctrubenstein@cpradr.org.
Continuing Legal Education:
NY CLE: CPR (International Institute for Conflict Prevention & Resolution) has been certified by the New York State Continuing Legal Education Board as an Accredited Provider of Continuing Legal Education in the State of New York.
This non-transitional continuing legal education program has been approved in accordance with the requirements of the New York State Continuing Legal Education Board for a maximum of 1.5 credit hours, of which 1.5 credit hours can be applied toward the Professional Practice requirement.
CPR is a non-profit organization. Under financial hardship guidelines, at its discretion, CPR may waive the fee for attorneys who demonstrate that they are not currently employed (not retirees). CPR may also provide a special discounted price to attorneys, full time judges and administrative law judges practicing in the nonprofit and public sectors full time. Please contact Knar Nahikian at knahikian@cpradr.org to request financial assistance with this program.
Cancellation Policy:
No refund is available in the event you have to cancel. However, substitutions are freely accepted (i.e., you can send someone else from your organization as a substitute).
CPR reserves the right to cancel any class due to low enrollment.Empty headin
Free for CPR Institute Members!