Back to Events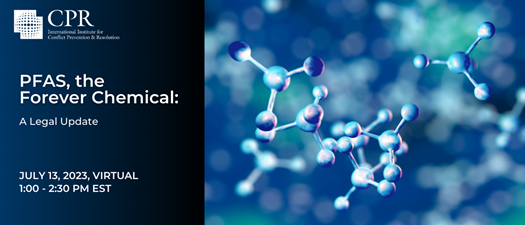 PFAS, the Forever Chemical
Thursday, July 13, 2023
Event Details
*Now open to the public*
PFAS, the Forever Chemical: An Interdisciplinary Review of Current Environmental Regulations, Availability of Insurance Coverage, Potential Bankruptcy Issues, and ADR
Program Description:
Join us for a panel discussion of the most prevalent legal issues confronting companies that interact with PFAS (per- and polyfluoroalkyl substances), commonly referred to as "forever chemicals." Hosted by a panel of practitioners across diverse practice areas, this program will explore how businesses can proactively navigate PFAS's ever-evolving legal landscape. Suited for all levels of familiarity with PFAS, the panelists' discussion will include:
-a PFAS primer
-an update on the status of litigation and environmental regulation
-a discussion of issues pertaining to insurance coverage and bankruptcy
-a look at available means to resolve PFAS disputes
-the panelists' own anticipations for the future of PFAS within their respective practice areas
Featuring:
Deborah Greenspan, Blank Rome
Ian Peck, Haynes Boone
Joshua Weinberg, Ruggeri Parks
Andrew Van Osselaer, Haynes Boone
Adrian Azer, Haynes Boone – Moderator
Virtual Location:
This event will take place via Zoom.
Registration:
This event is free and open to the public. Registration is required.
Please register using the registration button above.
Need assistance registering? Email Carrie Ann Trubenstein at ctrubenstein@cpradr.org.