Back to CPR Institute Store
Mediation Best Practices Guide for In-House Counsel
Books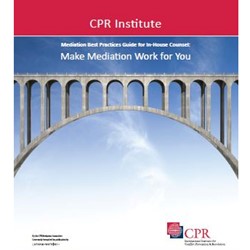 This is a FREE CPR Members-Only Resource
Inspiration for the Guide grew out of conversations among the inhouse counsel community over issues too frequently encountered with mediation: How to get recalcitrant parties to the mediation table? What is the best way to communicate to counsel that you will play an active role in the session? What to do when a mediator is not doing their job? And what happens after a mediation when it doesn't settle?
The Guide answers all these questions and includes insider tips from in-house counsel throughout. Make Mediation Work for You begins with a discussion on when to contemplate mediation and then takes the in-house reader though every step in the process: from convening the process and making negotiations plans before the in-person session to creative solutions for overcoming impasse and structuring a settlement agreement.
*You must be logged in as a member and fill out the required fields to access this guide.
By entering your email address, you are consenting to receive marketing emails from CPR (International Institute for Conflict Prevention & Resolution), located in New York, NY. You can revoke your consent to receive emails at any time by using the unsubscribe button found at the bottom of every email.
---