Back to CPR Institute Store
Mitigating Risk in Life Sciences Transactions
Books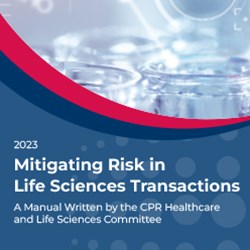 Now Available as a FREE Download to CPR Members only!
The CPR Healthcare and Life Sciences Committee created this manual to aid legal practitioners with drafting life sciences transactions while identifying, allocating and mitigating risks in order to optimize the value of those transactions for the parties on either side of a deal. Mitigating Risk in Life Sciences Transactions is intended to help minimize the risk of disruption to the business arrangement and prevent disputes so the parties can focus on maximizing value over the course of their business relationship.
You must be logged in as a member to access this manual. Please fill out the form and go through checkout in order to receive the free download. If you are not a member and would like to access this manual, please email Lili Schroppe at lschroppe@cpradr.org.
By entering your email address, you are consenting to receive marketing emails from CPR (International Institute for Conflict Prevention & Resolution), located in New York, NY. You can revoke your consent to receive emails at any time by using the unsubscribe button found at the bottom of every email.
---