Back to Events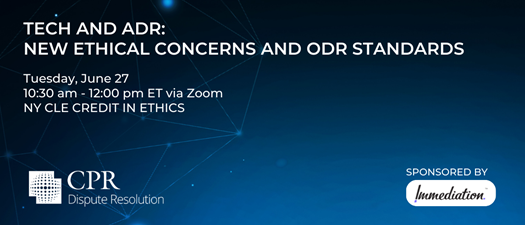 Tech and ADR: New Ethical Concerns and ODR Standards
Tuesday, June 27, 2023
10:30 AM - 12:00 PM (EDT)
Event Details
On June 27, 2023 , CPR Dispute Resolution will provide a training program, "Tech and ADR: New Ethical Concerns and ODR Standards."
Program Description:
The application of technology to dispute resolution has seen exponential growth in the shadow of the pandemic, particularly in the use of remote video conferencing. The disruptive nature of technology provides new opportunities for access to justice as well as new ethical issues for practitioners and processes. This workshop will explore case examples in light of legal obligations and professional ethical requirements for the use of technology in dispute resolution. The workshop will also examine ways to operationalize new ethical standards for the application of technology to dispute resolution.
1.5 hours of non-transitional NY CLE in Ethics will be provided. See below for full CLE details.
Many thanks to program sponsor Immediation for making this event possible and to mediate.com for additional support.
Program Logistics:
Empty heading
This course will be conducted on Zoom.
The course fee is as follows:
-CPR members and neutrals on the CPR Panel of Distinguished Neutrals: $79.00
-All others: $99.00
Course trainers are Dr. Leah Wing and Janet Martinez.
Registration:
Please use the registration button above to register.
Registration will close on Monday, June 26, at 11:59 pm.
CPR neutrals on the Panel of Distinguished Neutrals should register using the email address on file with CPR to be able to access the discount.
Questions about registration? Please contact Carrie Ann Trubenstein at ctrubenstein@cpradr.org.
Continuing Legal Education:
NY CLE: CPR (International Institute for Conflict Prevention & Resolution) has been certified by the New York State Continuing Legal Education Board as an Accredited Provider of Continuing Legal Education in the State of New York.
This non-transitional continuing legal education program has been approved in accordance with the requirements of the New York State Continuing Legal Education Board for a maximum of 1.5 credit hours, of which 1.5 credit hours can be applied toward the Ethics requirement.
CPR is a non-profit organization. Under financial hardship guidelines, at its discretion, CPR may waive the fee for attorneys who demonstrate that they are not currently employed (not retirees). CPR may also provide a special discounted price to attorneys, full time judges and administrative law judges practicing in the nonprofit and public sectors full time. Please contact Knar Nahikian at knahikian@cpradr.org to request financial assistance with this program.
Cancellation Policy:
No refund is available in the event you have to cancel. However, substitutions are freely accepted (i.e., you can send someone else from your organization as a substitute).
CPR reserves the right to cancel any class due to low enrollment.
For More Information: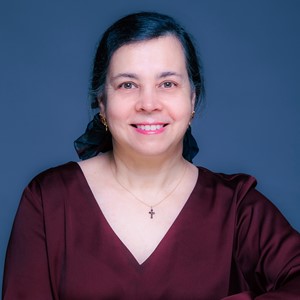 Helena Tavares Erickson
Acting CEO, Senior Vice President & Corporate Secretary
CPR Institute