Back to Events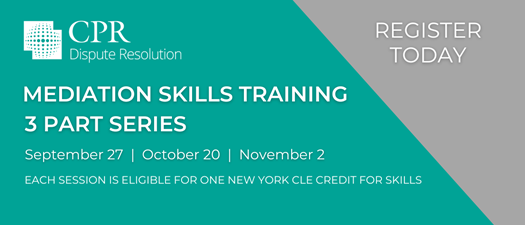 CPR Dispute Resolution Presents: Mediation Skills Training
Wednesday, September 27, 2023
at
11:00 AM (EDT)
to Thursday, November 2, 2023 at 1:00 PM (EDT)
Event Details
Join CPR Dispute Resolution Services and CPR Institute's Young Leaders in Alternative Dispute Resolution (Y-ADR) for a program that will guide counsel through best practices, tips and tools needed to make the most of mediation.
This three-part series to be held September through November will equip participants with the knowledge needed to help your client effectively use mediation to reach settlement, saving them the time and resources they would have needed to litigate or arbitrate their dispute.
Participants can join for any or all sessions. The sessions will be presented online via live simultaneous transmission (webconference) format that allows for participant interaction and questions. Each session is suitable for experienced attorneys (non-transitional) and is eligible for one New York CLE credit for Skills.
Program documentation will be provided for those attendees seeking reciprocity for CLE in other jurisdictions.
Registration now open!
Each session is $49. Sign up for all three sessions for $99.
A group registration rate is available for $1,000. After that selection is made during the registration process, a discount code will be generated that can be disseminated within your organization. Please contact Lili Schroppe at lschroppe@cpradr.org with any questions.
Part 1: Understanding the Benefits of Mediation, When to Mediate and How to Select Your Mediator
September 27, 2023 | 11:00AM - 12:00PM Eastern | Virtual Participation
This session will set up the basis of why and when to mediate, including the benefits of mediation, figuring out whether mediation is right for your dispute, and determining the right time to mediate. Participants will also learn about preliminary issues to consider, such as how to choose the right mediator, whether to consider co-mediation, and practical considerations for the location of your mediation session.
Moderator:
Jason Klingensmith, Assistant General Counsel, General Motors Company
Speakers:
William Wood, Mediator, Brick Court Chambers
Gisele Stephens-Chu, Stephens-Chu Dispute Resolution
Kate Gonzalez, Senior Legal Counsel, Airbus
Part 2: Preparing for the Mediation
October 20, 2023 | 12:00 -1:00PM Eastern | Virtual Participation
The second session will guide participants through the necessary steps in preparing yourself and your client for the mediation session. This will include how to prepare your client and their role in the session, creating a risk-analysis of your case and economic valuation, what to include in your mediation statements, and how to develop your first offer and negotiation strategy.
Moderator:
Myrna Barakat Friedman, Mediator, Barakat-ADR
Speakers:
Camille Lallemand, Head of Legal for Contracts, Litigation & Regulator, Airbus
Adrienne Publicover, Mediator, JAMS
Steven Bierman, Mediator, Bierman ADR
Part 3: Effective Advocacy Strategies—Understanding the Attorney's Role and How to Avoid Common Mistakes That Can Lead to Impasse
November 2, 2023 | 12:00 -1:00PM Eastern | Virtual Participation
The final session will bring the participants to the mediation table and discuss best practices for the mediation session. Within the mediation session, participants should understand the impact their demeanor has on the progress of the mediation, the consequences of failing to adequately prepare and calculate the settlement value, and strategies for how to avoid impasse, maximize chances of settlement and to best utilize the mediator along the way.
Moderator:
Rachel Gupta, Mediator, Gupta Dispute Resolutions LLC
Speakers:
Reginald Holmes, Mediator, The Holmes Law Firm
Jerry P. Roscoe, Mediator, JAMS
Joan Stearns-Johnsen, Mediator JSJ-ADR
Continuing Legal Education:
NY CLE: CPR (International Institute for Conflict Prevention & Resolution) has been certified by the New York State Continuing Legal Education Board as an Accredited Provider of Continuing Legal Education in the State of New York.
CPR is a non-profit organization. Under financial hardship guidelines, at its discretion, CPR may waive the fee for attorneys who demonstrate that they are not currently employed (not retirees). CPR may also provide a special discounted price to attorneys, full time judges and administrative law judges practicing in the nonprofit and public sectors full time. Please contact Knar Nahikian at knahikian@cpradr.org to request financial assistance with this program.
For More Information: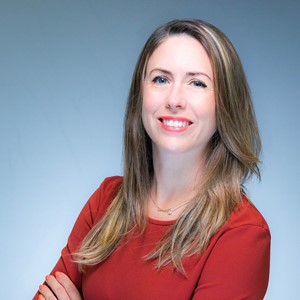 Mia Levi
Vice President
CPR Dispute Resolution Services