Back to Events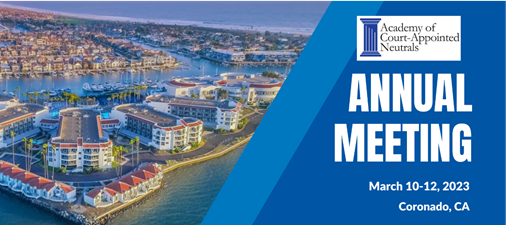 Academy of Court-Appointed Neutrals 2023 Annual Meeting
Meeting The Moment
Friday, March 10, 2023
to Sunday, March 12, 2023
Event Details
This year's Academy of Court-Appointed Neutrals (ACAN) will Meet the Moment with an exciting array of speakers and programming. They expect to have a half-day training program (at the bargain price of $50 for Fellows and Members who attend the meeting) designed to help ACAN Fellows and Members take advantage of both the new opportunities ACAN has been creating and the new opportunities created by the public attention that the profession has drawn. And they expect to follow it with two days of fascinating programming and fun events.
For More Information:

CPR is a Community Co-Sponsor of this event.